---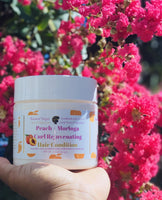 Peach + Moringa Curl Rejuvenating Hair Conditioner
Our Peach + Moringa Curl Rejuvenating Hair Conditioner is an amazing blend of Moringa oil, Mafura butter, and lavender essential oil. Packed with protein, vitamins, minerals, chlorophyll, amino acids, and antioxidants, this hair conditioner helps strengthen and nourish your tresses, promoting hair growth and preventing hair loss. Mafura butter improves elasticity and prevents hair breakage, while lavender essential oil helps to boost vibrancy and shine. Are you ready to transform your strands?
Ingredients
Distilled water, Panthenol, Behentrimonium Methosulfate, Cetyl Alcohol, Butylene Glycol, Cetearyl Alcohol, Phenoxyethanol, Caprylyl Glycol, Moringa Oleifera (Moringa) Seed Oil, Trichilia Emetica Seed Butter, Lavandula angustifolia (Lavender) Flower Oil, Eucalyptus globulus Leaf Oil, Peach Fragrance
Benefit
Moringa Oil: It is rich in protein, vitamins, and minerals that promote hair growth, strengthens the hair, and healthy hair. Moringa has chlorophyll, complete amino acids, and antioxidants, all of which are responsible for nourishing your hair. Vitamins A and B in Moringa promote hair growth. Iron in Moringa prevents hair loss. Zinc for healthy hair follicles. The essential amino acids in Moringa nourishes the hair strands. Vitamins C & E in Moringa fights oxidative stress. Omega 3 in Moringa nourishes hair. 
Mafura Butter: Essential fatty acids in the butter softens the hair cuticle, improves elasticity. Once applied to the hair, mafura butter prevents breaking hair fiber and helps restore damaged hair.
Lavender essential oil: Its antibacterial properties help promote and stimulate hair growth. It deep conditions the hair keeps it shiny and helps control dandruff. Lavender helps to moisturize a dry scalp and helps bring the scalp back to balance. Helps to boost the fight against hair loss and increases circulation to hair follicles. 

Eucalyptus essential oil: It stimulates hair follicles, improves the health of hair, promotes hair growth, relieves itchy scalp, and treats head lice. 
Recommended use
Apply to wet hair from roots to ends. For extra dense curls or long hair, section with hair with clips while conditioning to ensure every strand gets love. Use a detangling brush or fingers to help detangle & bring curls together. Rinse thoroughly to ensure all conditioner is rinsed out. Tip for dry or brittle hair, leave the conditioner on for 10-15 minutes to allow hair strands to be repaired to help restore & rejuvenate your curls.